Come as you are –
No experience needed.
No prior experience or fitness training is necessary. Your Certified AntiGravity Instructor (CAGI) will: 
Show you how to use your hammock effectively for your specific body type, right from the start.
Create a supportive, inclusive setting that frees you to be playful and try new things. 
Offer individualized attention so that you feel "just right" and reap the most benefits. 
Ensure your success – and that you have fun. 
Fitness Like You've Never Felt Before
We like to think of every AntiGravity Fitness class as a "play-in," and not just a

"work-out."

Here's why:
We like to call AntiGravity Fitness a "work out/play in." You will have fun, be challenged, experience the magic of zero-compression inversion, and discover new capabilities.
You'll have fun. You'll experience the joy of freedom of movement through three-dimensional space—supported by the AntiGravity Hammock and your Certified AntiGravity Instructor (CAGI).
All of you gets to play. You'll de-stress and be empowered on all levels—physical, social-emotional, and energetic—and leave reinvigorated and with a sense of holistic well-being.
There's a ripple effect. AntiGravity classes are designed to assist you in surpassing your current "personal best" fitness level, extending what you thought was possible. And that can have a profound positive impact in your daily life.
You'll be guided by the best. The AntiGravity Fitness method has been proven fun and effective over decades and your instructor is trained and certified to guide you to success. All you have to do is show up
All the power of a workout,
all the fun of a play date.
Powerful benefits

await you
Burn calories.
Build muscle.
Increase your flexibility.
Decompress your spine.
Attain all-over body conditioning.
Achieve greater joint mobility.Maximize your core strength.
De-stress.
Enhance your proprioception and coordination.
Activate hard-to-reach deep muscle groups.
Deepen your body awareness.Improve your digestive health.
Achieve a higher level of athleticism.
Recalibrate-All systems go!Body, mind, and spirit.
Have fun.
Transform the quality of your life.
You don't need to be something you're not. Certified AntiGravity Instructors (CAGIs) are trained to guide classes that are a mix of fitness levels and body types, so there's no pressure to be some kind of super athlete, and you will never feel out of place. And, if you are an athlete, you will find that the classes meet you at your level and bring you to your next.
All of you is welcome-up days, down days, tired or stressed days, major transitions, ages and stages. Life happens; we won't leave you hanging.
You will decompress. AntiGravity's famous Zero-Compression Inversions actually create space in your body, lengthening your spine and mobilizing your joints.
You will be fully supported. Empowered with your CAGI's guidance, the revolutionary AntiGravity Hammock, and the proven AntiGravity methodology, you will break through your personal limitations to achieve greater mind-body-spirit fitness-always supported.
You will feel confident, have fun, and experience "fitness flight" right from your first class. Everyone is successful.
What class regulars have to say
"I love EVERYTHING about these classes. I regularly and enthusiastically recommend AntiGravity to my friends and colleagues. It's a wonderful natural high and my body has been gaining functionality and mobility since day 1. Wish I could go every day!"
– Carolyn De Melo
New York, NY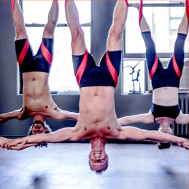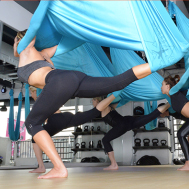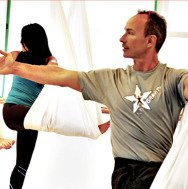 Internationally

Accredited By:
NASM — National Academy of Sports Medicine
AFAA — Aerobics & Fitness Association of America
Fitness Australia
CYQ — U.K.